Tree & Shrub Care in Ohio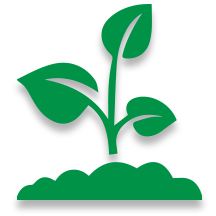 Trees and shrubs are valuable assets to your property and taking care of them shouldn't be taken lightly. That's why we offer a comprehensive tree care program to tackle all the problems that your trees and shrubs may face during the year.
Trees not only improve the curb appeal of your yard, but they can actually increase the value of your home, making trees an important investment to any homeowner. If taken care of properly, trees can live for decades or even centuries which is what we want them to do. We want our children and grandchildren to be able to enjoy them, play in them, and swing from them. Although trees look hardy and strong, they are still fragile organisms that need to be taken care of.
As a provider of quality lawn care, Velvet Lawns knows that your trees and shrubs are a valuable part of your landscape and require different approaches. That's why we are dedicated to taking great care of your investments by protecting them all year from the forces of nature that seek to harm them such as:
We Value Our Customers
At Velvet Lawns, communication with our customers is a top priority. We do not make decisions or apply treatments without first speaking with you and going over the details so you know exactly what's going on every step of the way. By keeping our customers in the loop we build trust and lasting relationships that improve our overall customer service and ensures you get the best services available.
Tree and Shrub Program in Ohio
Our tree and shrub care program consists of 4 steps throughout the year (8 – 12 weeks) where you will receive:
Dormant Oil Application in Ohio
Starting in the fall, insects will try and seek out places to lay their eggs for the winter. These eggs hatch in the spring and the larvae feed on your trees. Dormant oil kills insects, such as aphids, mites, and scales, preventing them from infesting your trees and shrubs. Dormant oil is a petroleum-based product that is applied to the trunks of trees where it smothers any insects residing there. Dormant oil is best applied in the early spring before the plants emerge from dormancy.
Insect Control
(2 Applications per year)
We use a custom-blended liquid fertilizer that is sprayed directly onto the leaves and trunks of your trees and shrubs to keep hungry insects off during the growing season. Then Insecticide is applied to leaves of trees and shrubs to control insects.
Deep Root Feeding
Deep root feeding is a pressurized injection of fertilizer into the root zones of your trees. This gets nutrients right where the tree needs it and also eliminates competition from other plants. Deep root feeding is far more effective than traditional surface fertilizers that require a lot of water and time to sink down into the roots.
Don't risk the health and well-being of your valuable trees and shrubs. Sign up for our tree and shrub care program today.